New Procedure Provides Patients with Life-Changing Results
Monday, September 23, 2019
Retired airline pilot Sam McDowell was struggling with an everyday problem. The Statesville resident who now spends his time as a wood turner was having sudden urges to urinate that forced him to leave the woodshop in his basement and dash outside. It would take Sam a while to make sure his bladder was empty, and he would think he was done, but inconveniently learn that he wasn't.
He had noticed that urinating wasn't coming as easily as it once had. His need to urinate gradually became more frequent, making him change his habits and affecting his daily life.
"It's kind of like getting water out of a rusty pipe," he said.
When Sam's physician, urologist Michael Schlesinger, explained to Sam how the prostate continues to expand as men age, the 70-year-old patient recognized he had the symptoms of an enlarged prostate, including difficulty starting urination, a weak urine stream, and getting up frequently at night to urinate.
"I told people that I started peeing in Morse code," he said.
During a routine visit with Schlesinger, Sam was intrigued by a graphic on the wall displaying the UroLift® System, a new procedure that provides rapid relief and recovery to men living with symptoms of an enlarged prostate, also known as benign prostatic hyperplasia, or BPH. The urologist explained the treatment to Sam and showed him a video reviewing its details.
"It made sense to me," Sam said. "Compared to the pain and complications of the alternative, this was a no-brainer."
Half of men over the age of 50 struggle with urinary problems caused by an enlarged prostate. And while medications can have some effect, the next step has conventionally been an invasive procedure which can cause bleeding for six to eight weeks called transurethral resection of the prostate (TURP).
UroLift® is a minimally invasive procedure which takes 10 to 15 minutes to complete. During the procedure, the urologist pulls back the enlarged prostate tissue to open the passage to the bladder before inserting clips to hold the tissue in place. Effective in preserving sexual function, it is the only treatment of an enlarged prostate that does not require heating, cutting, or removal of the prostate tissue.
After awaking alert, patients immediately experience positive results. They begin urinating comfortably with a steady stream, and those who had been waking up repeatedly throughout the night enjoy their first full night's sleep in years.
Sam had his UroLift® procedure done with the highly skilled team at Iredell Memorial Hospital's Same Day Surgery center. He was the one of eight patients Schlesinger performed the procedure for that day. Sam went home two hours after the 15-minute procedure, and was comfortably and effectively urinating within a week.
"I'm peeing like a 50-year-old again," he said. "It's a relief now thinking back to how it was before the procedure. It's a whole lot better now. It starts off with a rainstorm and ends as a drizzle."
Sam is grateful he learned about UroLift® and that Schlesinger, whom he trusted after seeing for 15 years, was able to perform it.
"I would recommend it to any guy," he said.
The symptoms of enlarged prostate affect people's everyday lives, just like Sam, leading men to map out the location of restrooms wherever they go. Freed of the symptoms, patients can again enjoy hobbies and drive places without having to stop multiple times to urinate.
"It really makes a big difference for these folks," Schlesinger said. "It does much more than the medications can."
Urologist Tink Johnson, who will also soon begin performing UroLift® procedures at Iredell Memorial, agrees.
"Medications don't work for everyone and when they do, there can be a problem with side effects," Johnson said.
Throughout the years, many dozens of procedures have been tried to treat symptomatic prostate enlargement – from laser procedures, to resection procedures, to using steam to destroy the prostate.
"If you can come up with a way to do it, someone has come up with it," Schlesinger said.
"We've seen a lot of different treatments over the years and a good many of them haven't panned out because they've either been inferior to a TURP or have not been long lasting," Johnson said. "This is comparable to more traditional procedures but there is a shorter recovery time and less likelihood of going home with a catheter."
Schlesinger first learned of UroLift® in 2012 at the American Urological Association (AUA) Annual Meeting, initially considering it to be simply another procedure in the long and ever-growing list. But now backed by seven years of sound data, UroLift® has vetted itself and become a recommended procedure by AUA Guidelines. Schlesinger completed the comprehensive training to offer UroLift® and its benefits to men within the community.
"I feel confident and comfortable treating my patients with this procedure knowing that is has a long-term history of success," he said.
For an experienced surgeon who has built his practice largely on minimally invasive procedures to treat the prostate, Schlesinger said UroLift® is efficiently accomplishing its purpose.
"This really fits the bill for me," Schlesinger said. "It takes a complicated problem, simplifies it, and treats the prostate in a very simple and elegant way."
After starting to perform UroLift® in June, Schlesinger and the Iredell Health System Urology team performed the procedure for more than 30 patients within just a few months.
"We are happy to provide this innovative procedure to individuals in the communities we serve," said Ashley Sterchi, director of Iredell Health System's Surgical Services. "The alternative, TURP, has been a good, long-standing option, but many men elect not to choose TURP because of its long recovery and risk of permanent sexual dysfunction. The UroLift® System is the only minimally invasive treatment option that has been shown to provide rapid and durable symptomatic and urinary flow rate improvement, without inducing sustained sexual dysfunction. This is one of the reasons why the American Urological Association has recently named Urolift® as part of their standard of care in the treatment of BPH."
Johnson and Schlesinger, who are both surgeons with Piedmont HealthCare, are currently the only two urologists able to perform the UroLift® procedure in a facility in Iredell County. The two, along with the surgical team at Iredell Memorial, are pleased to be able to bring this new procedure to the community.
"Local patients are fortunate they don't have to go all the way to Charlotte or Winston-Salem to have this done," Sterchi said.
Sterchi is thrilled Iredell Memorial is playing an important role in improving the lives of more and more patients suffering with enlarged prostate, and she is confident in her team now experienced in providing the UroLift® System.
"Our tenured urology team at Iredell Health System's Surgical Services is the most knowledgeable and caring surgical team around," she said. "Our team is excited about providing efficient, patient-oriented, and cutting-edge technology to all."
Pictured, top of page: Sam McDowell
Above: Dr. Michael Schlesinger recently began performing the UroLift® procedure at Iredell Memorial Hospital. Dr. Tink Johnson (not pictured) will also soon begin using the UroLift® System to treat patients.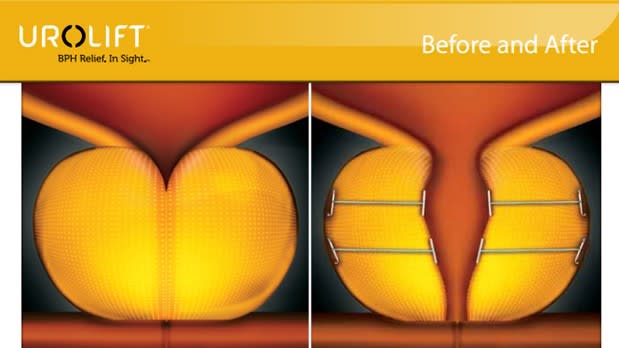 Above: A before and after depiction showing the capabilities of the UroLift® System.