About our Cancer Center of Excellence
At Iredell Memorial, we understand how difficult it is to cope with cancer. That is why we offer the latest in imaging technology enabling us to diagnose cancer at the earliest stage. After a diagnosis, our cancer specialists work with you from day one to help you understand your disease and treatment options.
Our Women's Health Center provides literature, breast self-exam instruction and self-requested screening mammograms for women 40 and older, based on American Cancer Society guidelines.
A customized treatment and recovery plan
Your customized treatment and recovery plan may include radiation therapy, chemotherapy, surgery or transplants. Whatever plan is right for you, we will help you and your family prepare, answering questions and providing the resources you need. Our state-of-the-art treatment options represent the best medical care available for our patients facing cancer.
We even offer targeted cancer treatments using advanced technology to limit radiation exposure. At the J. Allen Knox Radiation Therapy Center, oncologists can spot cancerous growths while they are small and monitor recovery to ensure you remain cancer-free after treatment.
But we do more. We have compassionate nurses and physicians who understand the emotional and psychological impact of fighting cancer. They know how to help ease the anxiety, fear, helplessness and provide hope to our patients. From diagnosis to recovery, our cancer patients can rest assured they're receiving the best medical care delivered with understanding, warmth and compassion.
Our accreditations
Iredell Health System has been accredited as a Community Hospital Cancer Program by the American College of Surgeons Commission on Cancer. The Women's Health Center is accredited by the American College of Radiology.
Annual report
Our cancer committee prepares an annual report each year that summarizes our services and statistics. Click on the cover image to read the PDF.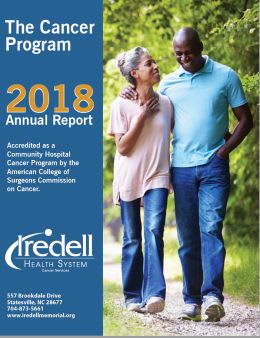 If you would like to learn more about cancer diagnosis, prevention and treatment at Iredell Health System, contact us today.