Pampered Pregnancy Program
Welcome to your Pampered Pregnancy, Iredell Memorial Hospital's unique program for moms-to-be who don't mind being pampered at this amazing time in their lives.
You can join anytime during your pregnancy. Just call 704.878.4555 or email us. Once you register, you'll have the services of a personal pregnancy coach who will help you find answers to your questions, locate resources and enroll you in our optional educational classes. Special discounts on products and services are also available to members. The sooner you join, the more amenities you can enjoy. So, if you're expecting a baby, we encourage you to join this free comprehensive program.
Classes and tours during COVID-19 outbreak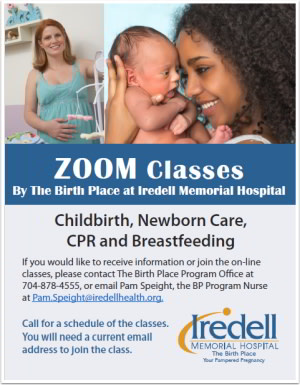 Wondering what to do about prenatal classes while in-person classes can't be held??? We have some FREE wonderful online education for you!!!
Enjoy learning about labor, birth, relaxation/comfort techniques, and breastfeeding, ALL from the comfort of your location (whether that's on your phone, laptop, or tablet). Contact The Birth Place Program Office at 704.878.4555, email, or send a Facebook message to Pam Speight so she can send you the links.
You can also contact Pam for links to view pre-recorded ZOOM meetings or if you want to meet with her individually via ZOOM to ask question about your pregnancy or to learn more about The Birth Place. Click on the flyer image to view or download the PDF.
Though in-person tours of The Birth Place have been suspended while COVID-19 is still a concern, you can still tour any time by joining Pam in video tours available on Your Pampered Pregnancy page on Facebook.
Program details
The Birth Place at Iredell Memorial offers the single room concept for mothers. This means that our nine maternity rooms are designed and equipped so that the mother can remain in the same room throughout her stay (labor, delivery, recovery, postpartum). These LDRP suites are large enough for your physician and nurses to bring the necessary equipment to you during labor. The latest technology, including the use of epidural anesthesia, is available to enhance your labor and birth experience in the LDRP room.
After your baby has arrived, you'll appreciate that the suites are large enough for your partner and baby to room with you. After delivery, you will be pampered with luxurious, high-thread-count bed sheets and soothing DVD music.
Our goal is for you to remain in the same room throughout your hospital stay. However, if our census exceeds our LDRP room availability, we may move you to The Birth Place Continued after your delivery. The Birth Place Continued is a wing of comfortable, quiet rooms that are slightly smaller because they do not need the added room for the equipment used during labor. Many new mothers appreciate the serenity of The Birth Place Continued.
Newborn care
This monthly class offers hands-on practice using infant dolls for participants to learn the basic care of the newborn, including bathing, diapering and comforting skills. Saturday and weeknight classes are offered.
Classes are held at the Outpatient Services Building behind Iredell Memorial Hospital.
Classes are 6:30 to 8:30 p.m. unless otherwise noted.
You can register in advance for these classes anytime by calling 704.878.4555 or via our online calendar of events.
Infant CPR and car seat safety
This class uses infant mannequins to teach infant CPR using the American Heart Association Friends and Family guidelines. This is not for certification, but is intended to help participants practice skills and learn the appropriate steps to take if an infant stops breathing.
The class also includes instruction and demonstration on the proper usage of an infant car seat and tips on how to childproof your home when an infant becomes a toddler.
Classes are held in the Community Classroom in the Outpatient Services Building behind Iredell Memorial Hospital.
You can register in advance for any of these by calling 704.878.4555 or via our online calendar of events.
Childbirth preparation
This series of classes is for expectant women who are planning to deliver at The Birth Place. The class will educate you and your partner on what to expect during labor and birth while you are a patient here. Expectant parents are encouraged to attend the class during their seventh to eighth month of pregnancy. A tour of The Birth Place is also included in the class.
Topics include:
Why childbirth preparation?
Infant feeding methods.
Female anatomy and physiology.
Stages of labor.
Phases of dilation.
Packing for the hospital and admission procedures.
Methods of pain control.
Breathing and relaxation during labor and birth.
Cesarean birth.
Newborn characteristics.
Your class will be scheduled according to your due date.
Please call 704.878.4555 early to register or for more information.
Weekday and weekend classes are available.
Our classes are held in the Community Classroom in the Outpatient Services building.
Breastfeeding classes
Breastfeeding is the best nutrition you can offer your growing baby. Therefore, we want to help make your experience an enjoyable and lasting one. Breastfeeding classes are available each month for those planning to breastfeed. These classes review the advantages of breastfeeding, nutritional information and getting started tips to help ensure a positive breastfeeding experience. The eighth month of pregnancy is the ideal time to attend; however, you are welcome to attend at any time.
We offer classes the second Tuesday of each month from 6 to 8 p.m. and on the first Saturday each month (holidays permitting) from 2 to 4 p.m.
Call 704.878.4555 or register online at our calendar of events.
In most hospitals, labor nurses are responsible for two or three laboring patients at any given time—which makes it hard to feel like any one nurse is yours. But at Iredell, a labor nurse is responsible for only one laboring patient at a time. So, if you get the feeling she's all yours, well, she is.
It's part of our belief in personalized nursing—something new moms really appreciate.
Special Care Nursery
Most babies are born completely healthy, happy and free of complications. However, in the event that your baby needs extra special care, our Special Care Nursery at The Birth Place is equipped and staffed to handle emergencies. Capabilities include stabilization of infants requiring oxygen or artificial ventilation, administration of intravenous therapy and cardiac/respiratory monitoring. In some instances, it is necessary to transport very sick or premature infants to a neonatal medical center.
Home visit
After your discharge from the hospital, your physician may feel your baby would benefit from a follow-up visit by a registered nurse and will request that a nurse from our Home Health staff come by your home. Your insurance will be billed for this visit.
If your baby doesn't need a home visit, you will still have the opportunity to return to the hospital for a Mom/Baby visit with Pam Speight, RN, our Pampered Pregnancy Program Coordinator. Pam will answer any questions you may have and will be glad to clarify the information you received while you and your baby were still in the hospital. She will also weigh your newborn and is available assist in other ways if requested by your physician. There will be no additional charge for these services.
For information about any of these services, call The Birth Place Program Office at 704.878.4555.
"If I'm carrying low, it's a boy, right?"
"Will sleeping on my left side make a difference?"
When you're pregnant, especially if it's your first, the questions just keep coming. Wouldn't it be great if you didn't have to rely on well-meaning friends or old wives' tales for the answer? Or maybe you're tired of searching for hours on the internet to find the answer to one simple question and you'd just like to ask someone who already knows the answer.
Say hello to Pam Speight, RN, your personal pregnancy coach, a professional whose job it is to help you get reliable answers, locate resources and enroll in educational classes.
She can also help you prepare a birth plan, refer an obstetrician or pediatrician if you don't already have one, and talk you through preregistration and what lies ahead.
Best of all, she's very reachable by phone 704.878.4555 or email (pampered@iredellmemorial.org).
Do you need one?
The answer is a resounding "YES!"
A birth plan is a written description of what you want us to do while your baby is being born and after he or she arrives. You should discuss it with your partner and physician. Your personal pregnancy coach is an excellent resource in putting your plan together.
Your birth plan should include any history that you want us to know about, such as complications you've had during pregnancy, any difficult births, or the previous loss of a child.
Personal issues should also be included. These could be privacy concerns, fears about being in a hospital or receiving medical treatments. You may want to tell us your religious or cultural beliefs, if they will play a role in your baby's birth. Also include any special needs you may have, such as impaired hearing or vision.
The plan should tell us who you want in the room while your baby is being born and what role you want him or her to play. Who do you want to cut the umbilical cord? Who do you want to hold your baby first?
Your medical wishes are extremely important. Do you want pain medication or do you want a natural birth? What type of medication do you want? Will you want an epidural?
Not every birth goes according to plan, so some flexibility should be included.
This is also a good time to think about your newborn's care. Will you breast- or bottle-feed your newborn? If you have a boy, will he be circumcised?
Contact your pregnancy coach to begin creating one.
We hope you already have a wonderful relationship with a physician you have chosen to deliver your baby and a pediatrician or family practitioner to help start the little one on the road to good health.
If not, however, your personal pregnancy coach will be happy to help you find the right doctors.
To search online, use our Provider Directory.
We offer tours for both expectant parents and siblings.
Expectant parents tour
Expectant parent tours give you the chance to see the LDRP room, nursery and other patient care areas. Meet in the main lobby of the hospital. Tours are held on the first Sunday of each month at 4 p.m., unless otherwise specified. When a holiday falls on the first Sunday, the tour will be rescheduled for the second Sunday. View the calendar for a complete schedule.
Sibling tours (ages 3 - 12)
Sibling tours help brothers and sisters feel they are a part of the new baby's birth. It lets them know where Mom will be while she is away from home. Meet in the main lobby of the hospital. Sibling tours are held on the second Thursday of each month at 4 p.m. View the calendar.
Registration isn't required for either tour. Meet in the main lobby. For more information, call 704.878.4555.
COVID-19 Visitor Restrictions
Visitation is open from 8 am to 8 pm daily for patient floors. The Birth Place and Emergency Department are 24 hours.


Labor and delivery patients may have one support person with them, but no visitors.